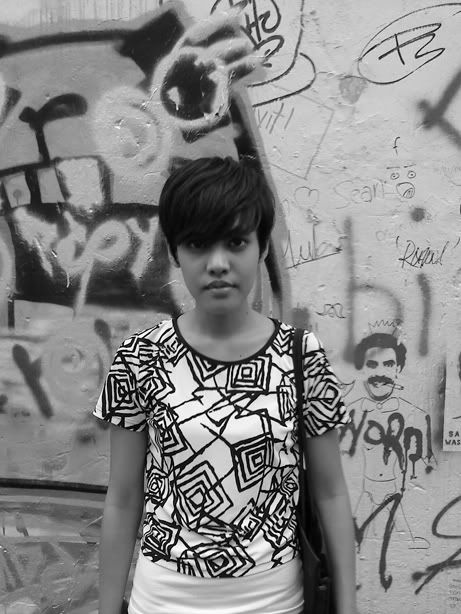 You must've think I'm crazy, but I thank God that I'm never born rich. In fact, I come from a middle income family where there is no such thing as discretionary income for specialty goods. I'm far less from being demanding or oblivious towards the lifestyle I'm living in.
Why am I being so grateful for being poor?
Its because I realised that the lack of money or the condition I'm living in has made me to what I am now. As I could not even afford a pair of Aldo heels or a Zara blazer, I find other alternatives like make my own clothes or shop at thrift stores. I started doing it about 4 years ago and then it became a habit. Its thrilling and fun to scout for unique genuine pieces. It tests my ability to recreate that old off-beat shirt into a whole different new interpretation. They say another man's trash is another man's holy grail. Sometimes I do get disappointed because theres nothing I fancy or not in my size. But most times I leave the Salvation Army with a giant smile plastered on my face.
Maybe if I were rich, I would be less creative and innovative. Maybe I would wear head to toe Topshop, tote a Chanel 2.55 because its Chanel (asked daddy for it) and it could "offset" my boring (but expensive)outfit or tie my Alexander Mcqueen scarf at every possible hole because Nicole Richie has it. Its because I could afford anything and people tend to wear labelled clothes as it is and less likely to do any customization except for matching them with vintage pieces or layering which is getting very lame. I mean its not ugly or wrong but its just....uninspirational or original.
I rather see someone wearing This Fashion from head to toe looking confident and knows her shit rather than someone who has a wardrobe of CDG and wearing it because every Ah Bengs has the shirt ( you know which one I'm talking about ).
Also, you could save the environment by buying second hand clothes or reinventing used clothes. Read this
article
(no.22 and no.34). I mean I'm not the go-green type of person but for sure I'm not a type of person who waste resources. I love beef too much and going totally organic is abit too far fetched for me.
So yeah, when you buy second hand clothes you 1)save the environment, 2) save money, 3) donate to Salvation Army if applicable.
AND ITS THE RECESSION PERIOD!! SUCK THAT
Labels: money, second-hand, thrift