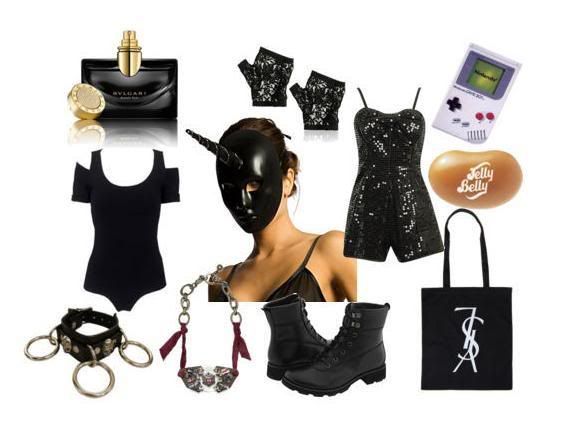 Clockwise: Bvlgari Jasmin Noir (sadly its mine is finishing), lace glove, sequin bodysuit, Nintendo Gameboy, Peanut Butter JellyBean, YSL Manifesto bag, Timberland Urban boots, Lanvin choker,
SID ring skull
,
Antipodium bodysuit
,
Kiki De Montparnasse Horn Mask
.
If I have exactly those things right now I would stick to them and never take anything off which means that I'm not going to shower. Doesn't matter anyway because I had been showering once a day and my beloved Bvlgari noir masks everything according to bf.
I haven't been touching my gameboys for a few months already because 1)its always the same game. 2)I knew of no one who still owns a gameboy to battle Pokemon Yellow Version with me.
I'm not into unicorns. Never in my life. But Kiki's horn mask looked very demonized and fierce you can't miss it.
I've always wished for a pair of Timberland's. Once in the train I saw a girl about 5 years younger than me wearing a pair of
Timberland's hunter boots heels
and I swear if her family wasn't there I wouldve stalk her home and someway somehow try to get those babies I deserve 100000xtimes more. Fucking shit those images still haunt me. I'm gonna save up for it.