Baking had been a MAJOR part of me since 2008. I find baking therapuetic and it calms my nerves. When I'm angry I beat the butter faster than a KitchenAid will do. When I'm sad I bake something really sugary it gives me a cardiac arrest just by looking at it. Its really magical how wheat turns into flour and when mixed with other elements it become something which is more than just edible. Somehow consuming something off your own labour gives you that sense of satisfaction and also joy when you see your friends enjoying your cake. Plus, I don't use any mixer or KitchenAid because I don't believe in machines.
Eating is not just chewing and swallowing to me. I have to know what I'm eating and how it is made. Most of the times I know exactly what are the ingredients in the food when I eat out but sometimes I don't (like KFC or any fast food joint). Hence I will avoid eating stuffs I'm really unsure of its content.
I love Scones. But my first experience with Scones was not a good one. Cafe's scones are too bland and flaky. I mean you're supposed to eat scones with clotted cream and jam but the cafes here are not really authentic about it. And when its machine made it sucks. Scones is a traditional English quick bread. Its lightly sweetened and compliments clotted cream, jam, butter and usually paired with any English teas. Scones have slightly hard/crunchy exterior and is flaky and soft inside. Scones can be plain or flavoured with raisins, cherries, cheese, chocolate chips or any other variations. Today I made mine with Bananas. While typing this I'm on my second piece hehehe. Ok here's the ingredients:
• 3 1/2 cups self-raising flour
• 4 tablespoons sugar
• 1 egg
• 1/4 teaspoon baking soda
• 1/2 teaspoon salt
• 4 tablespoons cold butter
• 2 large ripe bananas, cut into small pieces
• 6 tablespoons milk mixed with vanilla
1. Preheat the oven to 200 degree Celcius.
2. Stir together all the dry ingredients in a large bowl.
3. Cut in the cold butter.
4. Mixthe bananas and buttermilk together in a small bowl.
5. Add the bananas to the dry ingredients and stir just until moistened.
6. Knead on a lightly floured surface and roll out to about 3/4 inch thickness.
7. Cut into wedges or cut out circles using a biscuit cutter (or a glass).
8. Bake for 20 minutes.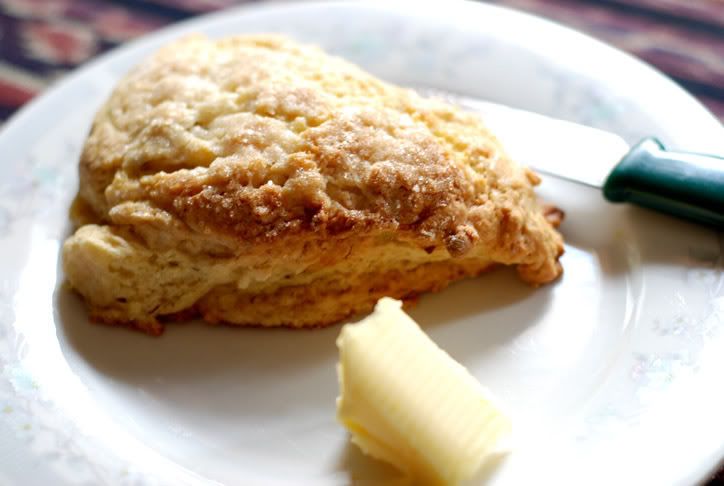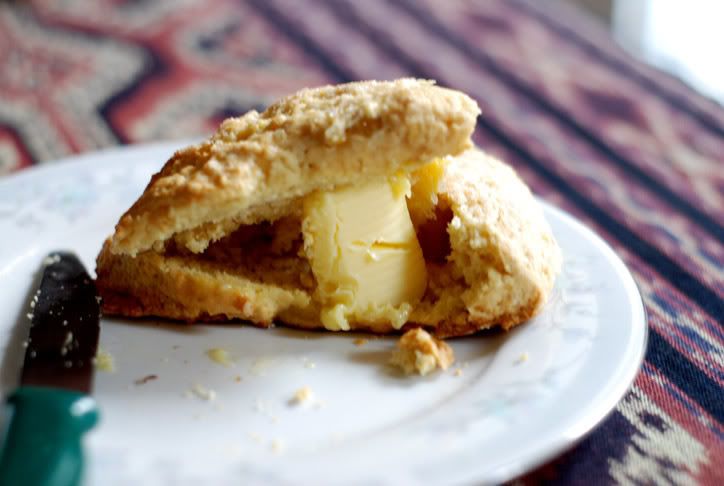 I paired mine with butter. Preferably use Lurpak salted butter.
There you go. Its so easy even idiots can do it. Just saying.